Comfortable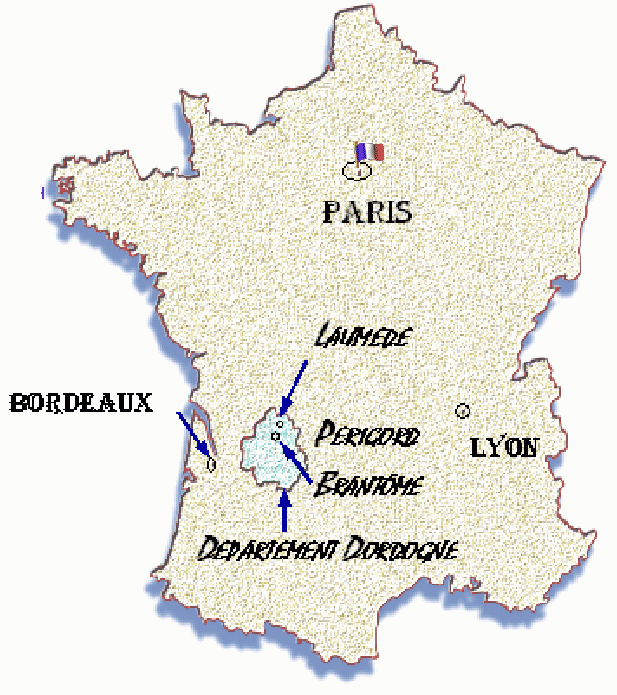 Comfort & convenience in tranquil Perigord Vert. Our nineteenth century farmhouse has privacy, handsome bedrooms, nicely appointed dining and salon with large, separate kitchen. Located directly on the Dronne River within two hectares enclosed property.
Historic
The region is rich in Paleolithic history. Pictographs in caves and massive dolmens record beliefs and ambitions of the ancient people. Roman towers and viaducts reflect early developments in the region which led to a prolific expansion in medieval times. Churches built upon the ancient Roman keeps provide a glimpse of this history.
Culinary
Fulfilling Dordogne's reputation for fine food; superb restaurants and markets lie in all directions. Markets run most days where one finds duck & goose confits, excellent meats and cheeses, fruits, vegetables, excellent Atlantic seafood, mushrooms, nuts, oils and sturdy wines. Two highly rated restaurants are just down the river.
Scenic
Varieties of fruits, grains, grasses and flowers fill the rich valleys. Mature nutwood, oak and pine forests stand in the uplands. Valleys connect by way of curving, paved roads which often lead to scenic, ancient villages. Limestone bluffs, hanging over the villages and rivers divide the massive woodlands in the surprisingly diverse regions in Dordogne.